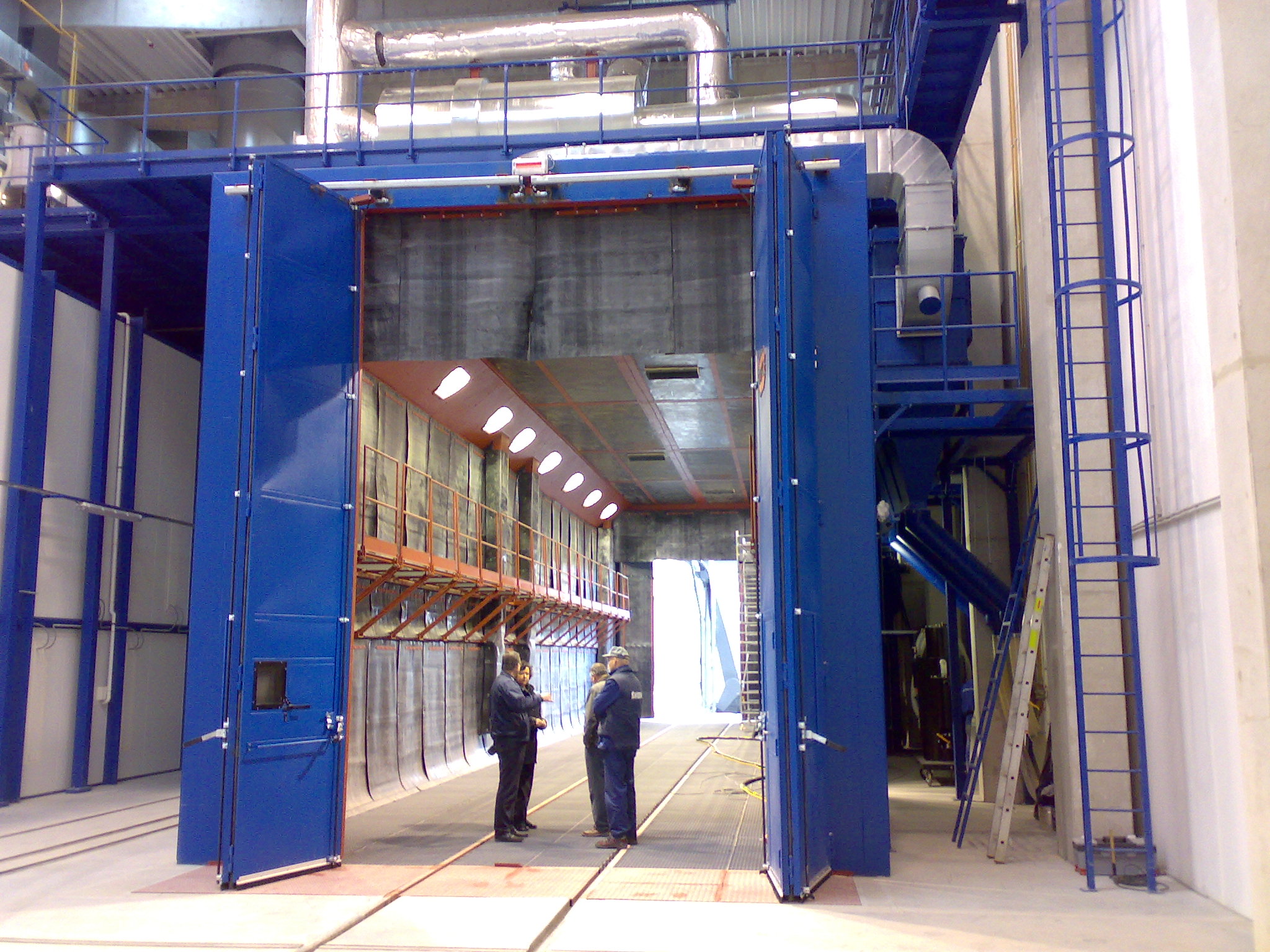 Blast rooms
A blast room is a device for hand blasting parts of any size and shape. Therefore, it is particularly suited for users who have to blast a wide range of parts with different shapes and dimensions. Blasting capacity is determined by the number of pressure blast kits involved in the technology and capacity of the compressor that supplies the device with compressed air.
Main components
The hall itself, either designed as a modular construction made of isolated steel panels or a building. A combination of these two is also possible.
The internal equipment of the room includes: floor covering sheets, ramps, grates, rubber hinges, ventilation and lighting ducts.
Floor collection and transport system. OTECO offers a raking system by default, optionally different systems can be used. This part of the technology serves to transport the spent abrasive from the blasting chamber to the abrasive cleaning unit.
The abrasive cleaning unit consists of the elevator, drum, gravity abrasive cleaning units and the silo. In special cases this unit can be supplemented with a magnetic separator or is doubled, thus allowing blasting of "black" material and stainless steel in one box.
The blasting is carried out with a pressure blasting kit that includes a pressure blasting vessel with remote control and the complete protective equipment for the worker, including a filter of the air breathed in and a climatic unit.
Complete wiring including the PLC control system, lights (by default discharge reflectors) and interconnecting cables. Ensures the operation and protection of the whole technology in accordance with applicable international regulations and standards.
Pneumatic elements used to distribute, regulate and secure the compressed air for all consumers used in the technology.
The last, very important part of the technology is the air-⁠conditioning system. It ensures good visibility in the hall for the worker and cleanness of the abrasive. It also removes dust from the exhausted air. OTECO's air-⁠handling system operates in a closed loop and its main part is an ecological, fully automatic JET filter with a fan.
Since the complete technology is custom made for each customer, it is possible to install a blasting box even if the space is limited.
In special cases the blasting rooms are equipped with e. g. wells, bridges, loading carts.
OTECO has supplied more than 100 facilities of this type, of which approximately 20 operate outside the Czech Republic.
Photo examples: