OPTIMA suspension type machines
The device is designed for blasting parts hung on a rotating and horizontally moving hook. The abrasive is shot at the rotating and moving parts so that the entire surface of the part is struck during one blast cycle. Parts can be loaded into the device either individually or in groups. In the case of blasting a group of parts, a hanger - the so-called herringbone - is used. Its shape is designed according to the dimensions and the shapes of the blasted parts, focusing on ideally utilizing the internal space of the device while observing the load capacity of the hook.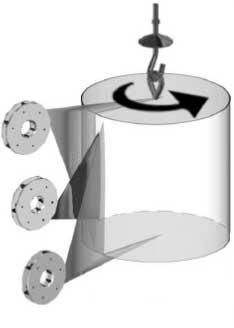 The device is equipped with a loading track of any shape which the carts with the hook follow.
The blasting chamber itself is made of steel. The inside surface is lined with abrasion-resistant material. The lower part of the cabin is funnel shaped and serves to collect the blasted abrasive. It has a built-in screw conveyor which carries the abrasive to the elevator. The spatial arrangement is designed so that there are no special requirements on the flooring to enable the installation of the machine.
The blasting wheels are built into the side walls of the machine so they strike the blasted parts as efficiently as possible. The spent abrasive is transported to the cleaning system where the impurities are separated and the cleaned abrasive is returned to the blasting cycle.
The machine is connected via a suction line to an efficient, automatic, environment-⁠friendly JET filter. It ensures the cleaning of the abrasive and the air which is sucked from the blasting chamber.
Suspension blasting devices are manufactured in various sizes and different designs of loading tracks.
 
Product dimensions
(diameter x height)
Number of blasting wheels
Load capacity of the hook
Filter unit
OP J 10-14
1000 x 1400 mm
2 x 7,5 kW
500 kg
OT 40 JP
OP 10 - 21
1000 x 2100 mm
3 x 7,5 kW
500 kg
OT 60 JP
OP 10 - 25
1000 x 2500 mm
3 x 12 kW
1000 kg
OT 60 JP
OP 11 - 16
1100 x 1600 mm
2 x 12 kW
1000 kg
OT 60 JP
OP 12 - 17
1200 x 1700 mm
2 x 7,5 kW
500 kg
OT 40 JP
OP N 12 - 22
1200 x 2200 mm
3 x 5,5 kW
1000 kg
OT 60 JP
OP 13 - 23
1300 x 2300 mm
3 x 7,5 kW
1000 kg
OT 80 JP
OP 15 - 23
1500 x 2300 mm
3 x 12 kW
1000 kg
OT 80 JP
OP 17 -30
1700 x 3000 mm
4 x 11 kW
2000 kg
OT 120 JP
OP 20 - 25
2000 x 2500 mm
4 x  12 kW
5000 kg
OT 120 JP
OP 25 - 35
2500 x 3500 mm
5 x 7,5 kW
5000 kg
OT 120 JP