SMART tumblast system machines
The machine is designed for blasting parts placed loosely on an endless belt. The belt is led to form a concavity in which the pieces are tumbling, thus they are rotated to expose their entire surface evenly to the flow of abrasive from the blasting wheels. The interaction of blasting and turning the components achieves quick and perfect surface treatment.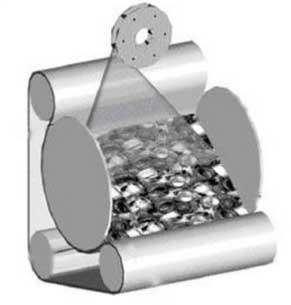 Loading of the blasted material is done through the front door of the machine. It can be opened manually or automatically. Unloading takes place automatically by reversing the direction of the rotating belt. The pieces fall into a prepared box or are transported using a conveyor to the their destination. To facilitate the insertion of parts, the machine can be equipped with an automatic loader (SKIP). By default the size of the produced SKIP is defined in accordance with the size of the crates used by the customer.
The blasting wheels are located on the upper side of the machine. The inner surface of the blasting chamber is laid out with abrasion-resistant material reducing maintenance costs. The blasted abrasive falls through the holes of the endless belt into a collecting funnel. From there, it is transported by means of a screw conveyor into an elevator, which vertically moves it to the abrasive cleaner. The cleaned abrasive is returned back to the blasting process through the abrasive dispenser.
The device is connected via a suction line to an efficient, automatic, environment-⁠friendly JET filter.
SMART is manufactured in five standard sizes.
| | | | | | | | |
| --- | --- | --- | --- | --- | --- | --- | --- |
|   | Batch volume | Batch weight | Drum width | Drum diameter | Blasting wheel power | Design with SKIP | Filter unit |
| SMART 1 | 50-70 l | 500 kg | 800 mm | 550 mm | 7,5 kW | NO | OT 20 JP |
| SMART 2 | 150-200 l | 800 kg | 900 mm | 800 mm | 7,5 (12) kW | YES | OT 20 JP |
| SMART 4 | 350 l | 1000 kg | 1200 mm | 1000 mm | 15 kW | YES | OT 60 JP |
| SMART 6 | 550 l | 2000 kg | 1300 mm | 1100 mm | 2x12 kW | YES | OT 80 JP |
| SMART 8 | 750 l | 2000 kg | 1600 mm | 1300 mm | 2x15 kW | YES | OT 80 JP |