MAXIMA continuous blasting machines with a conveyor track
The devices of the "MAXIMA" type are continuous machines with shot blasting wheels. They have a pass-through "tunnel" design with a roller conveyor. They are suitable for continuous automatic blasting of metal sheets, profiles, pipes, weldments and other materials. The pieces to be blasted are put lengthwise on the conveyor. The blasting wheels are arranged perpendicularly to the feed direction. A series of rubber curtains is built in the inlet of the device to prevent escape of the abrasive during blasting.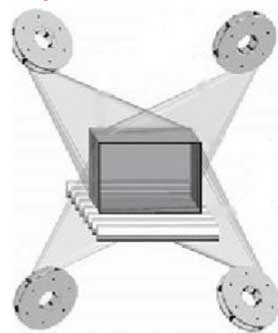 After a piece passes the inlet opening, the abrasive supply to the blasting wheels is automatically opened so the part in the chamber is blasted. The presence of a piece in the blasting chamber is tracked by a detector, its impulse directly controls the valves of the abrasive dosage.
The spent polluted abrasive falls trough the collecting funnel on the longitudinal screw conveyors which transport it to the transverse screw conveyor. That carries it to the bucket elevator which brings it to the cleaning system. There, the reusable abrasive is separated from coarse and fine impurities. The clean abrasive falls into the container, from which it is again fed through the dosing valve to the blasting wheels.
An additional brush and blower system cleans the surface of the blasted part from residues of abrasive and dust. This is especially important in the case of blasting metal sheets or pieces with large flat planes. It prevents the abrasive and the dust from being carried outside the cabin. After the piece passed the blasting zone the abrasive feed is automatically shut off if there is no further piece in the chamber until the entry of the next piece.
The device is connected to an efficient, automatic and environment-⁠friendly JET filter with a fan.
| | | | | |
| --- | --- | --- | --- | --- |
|   | Max. part width (mm) | Max. part height (mm) | Number of blasting wheels | Filter unit |
| Maxima 600 | 600 | 400 | 2 x 7,5 kW | OT 40 JP |
| Maxima 1000 | 1000 | 400 | 4 x 12 kW | OT 60 JP |
| Maxima 1500 | 1500 | 600 | 4 x 12 kW | OT 120 JP |
| Maxima 2000 | 2000 | 800 | 4 x 12 kW | OT 160 JP |
| Maxima 2500 | 2500 | 800 | 8 x 12 kW | OT 240 JP |
| Maxima 3000 | 3000 | 800 | 6 x 22 kW | OT 320 JP |
| Maxima 3200 | 3200 | 950 | 8 x 11 kW | OT 280 JP |